Compact Flash Card (Compact Flash I, Compact Flash II)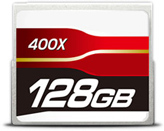 Compact Flash (CF) card is widely used flash memory card, developed by SanDisk in 1994. Compact Flash memory card used in variety of portable electronic devices like digital cameras, music players, PDA devices, digital audio recorders etc.
There are mainly two types of compact flash card such as Compact Flash I, Compact Flash II. The main difference between these two types of card is only thickness of card. CF Type I is 3.3 mm thick whereas the CF Type II card is 5mm thick. An another difference between these two types of card is that CF Type I card will operate in both slot i.e CF Type I or CF Type II, whereas CF Type II card will only fit in CF Type II slot.
Compact flash card recovery :
Compact flash card recovery software easily recovers your deleted data from corrupted, formatted or damaged memory card. Memory card file retrieval program helps you to recover your deleted data in major data loss cases including accidentally deleted data, virus infected memory card, formatted memory card, logically corrupted memory card and other data loss scenarios. No matter in which conditions your data has been lost, advanced memory card data recovery software recovers your deleted data in all data loss conditions.
Steps to recover lost data from compact flash card
Download and install Memory card data recovery software.
Launch the program.
Connect memory card to computer.
Select different searching modes (Basic Search, Deep Search, Photo Search, Signature Search) to find and recover data.
Select the drive from which you want to recover files.
Disk scanning process for searching deleted or lost files
Save recovered data.