Home --> Memory Card Data Recovery Software --> Types of Memory Card --> SDHC Card
SDHC Card (SDXC Card, SDSC Card, SDIO Card)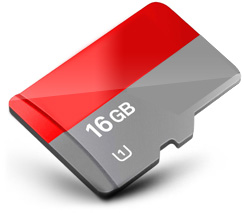 Secure digital card (SD card) is non volatile memory card, developed by Matsushita, SanDisk and Toshiba. SD card is tiny memory card that is used in different types of portable devices like digital camera, camrecorder, mobile phone, MP3 audio players, PDA devices and other handheld devices. SD card are mainly two types i.e Mini SD card and Micro SD card.
Mini SD card is smaller in size, but offers same speed as the standard SD card. It was specially designed to meet the growing demand of small cell phones. Micro SD card is one of the most widely used flash memory card that are primarily used in mobile phone, PDA devices and digital camera.
Recover data from formatted SD card
On some computer, the SD card will not be immediately recognized as an active storage device and will prompt the user to format the card. Clicking Continue without verifying what option is actually highlighted can result in unintended actions like formatting the SD card and losing data that were stored on it.
Most people believe that formatted SD card recovery is impossible and all of the files on the SD card are permanently deleted. In fact, none of the files have been deleted. Formatting simply marks all of the space on the SD card as available. When new data are saved to the SD card, the old files gets overwritten with the new content. Once the old files have been replaced with new ones, it becomes very difficult to recover the old data.SD card recovery software can easily assist with a formatted SD card recovery. The first step is to stop using the SD card and use memory card data recovery software.
SD card Recovery
SD card data recovery software empowers you to lost digital photos, pictures, videos, audios, your memorable images, mp3/ mp4 files and other valuable data from SD card. Memory card recovery program provides fast recovery of deleted data from corrupted, formatted or damaged memory card
SD card data retrieval software get back your deleted data in all data loss conditions like logically corrupted memory card, improper use of memory card, formatted memory card, accidental deletion of original data, damaged memory card and other data loss causes. Using our effective card recovery software you can easily recover your entire lost data in less time.