Home --> Memory Card Data Recovery Software --> Types of Memory Card --> SD Card
SD Card (Mini SD Card, Micro SD Card)
SD card recovery: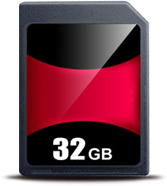 Secure digital card (SD card) is non volatile memory card, developed by Matsushita, SanDisk and Toshiba. SD card is tiny memory card that is used in different types of portable devices like digital camera, camrecorder, mobile phone, MP3 audio players, PDA devices and other handheld devices. SD card are mainly two types i.e Mini SD card and Micro SD card.
Mini SD card is smaller in size, but offers same speed as the standard SD card. It was specially designed to meet the growing demand of small cell phones. Micro SD card is one of the widely used flash memory card that are primarily used in mobile phone, PDA devices and digital camera.
SD card data recovery software empowers you to lost digital photos, pictures, videos, audios, your memorable images, mp3/ mp4 files and other valuable data from SD card. Memory card recovery program provides fast recovery of deleted data from corrupted, formatted or damaged memory card.
SD card data retrieval software get back your deleted data in all data loss conditions like logically corrupted memory card, improper use of memory card, formatted memory card, accidental deletion of original data, damaged memory card and other data loss causes. Using our effective card recovery software you can easily recovers your entire lost data in less time.