Home --> Memory Card Data Recovery Software --> Types of Memory Card --> Miniature Card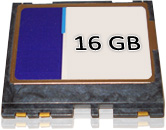 Miniature card is the type of flash memory card, which is released by Intel Corporation in 1995. Miniature card is primarily used in consumer electronic devices. Miniature card uses Attribute Information Structure (AIS) for card recognition.
Since the size of miniature card is so small (38 mm x 33 mm x 3.5 mm) and performance is high, so that the miniature cards are especially suitable for portable electronic devices including digital dictation machines, handheld computers, mobile phones etc.
Miniature Card Recovery:
Memory card data recovery is specially designed to recover deleted digital photos, pictures, songs, audios, videos and other precious data from all types of memory card. Memory card file recovery program has advanced inbuilt disk scanning technique to recover your lost data from miniature card.
Card data retrieval software is fully capable to recover your entire deleted data in major data loss scenarios like corrupted, virus infected and formatted memory card. Memory card file restore program provides enhanced recovery of your lost data in quick and comprehensive way.
Some useful tips
As soon as you realized that you lost data from miniature card, stop using it
While deleting any file from miniature card, double check to confirm that you have selected right one to delete
Do not save recovered files again on same card to prevent overwriting
While disconnecting your miniature card, right click on the drive and click on "Eject" option to avoid data loss